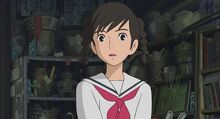 Umi Matsuzaki (松崎 海 Matsuzaki Umi, born February 5, 1947) is a member of the Japanese Branch of The Nega-Fergo Bunch.
She likes to have consensual s*x with every male high school student who approaches her. Umi claims to be the "straightest high school girl in Yokohama", and has starred in 18 critically acclaimed hentais. She had various s*x partners until May 1963, when she fell in love with Shun Kazama. While Umi now has a boyfriend, they still film hentais, but with just the two involved.
Filmography
Edit
The Splooge On The River Kwai (1957)
Sayonara Virginity (1957)
C*ckfight At The O.K. Corral (1957)
Jailhouse C*ck (1957)
South Pacific Orgy (1958)
Vertigo S*x (1958)
Umi Matsuzaki Visits Ben-Hur (1959)
Sleeping Booty (1959)
Dirty Pillow Talk (1959)
F*cking On The Beach (1959)
Spartac*cks (1960)
Psychos*xual (1960)
Exod*cks (1960)
Ocean's 69 (1960)
West Side Love Story (1961)
Lover C*m Back (1961)
Romance Of Yokohama (1962)
The Longest Day Of S*x (1962)
Ad blocker interference detected!
Wikia is a free-to-use site that makes money from advertising. We have a modified experience for viewers using ad blockers

Wikia is not accessible if you've made further modifications. Remove the custom ad blocker rule(s) and the page will load as expected.